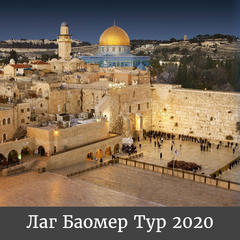 Lag BaOmer Tour 2020
This product can not be bought online
Dates: May 7-12, 2020
The cost of the program: 62,500 rubles. *
(The price may change, as it is tied to the current dollar exchange rate - equivalent to $ 1000, when registering from April 7 - $ 1250)
We invite you to a traditional trip to places of spiritual power in Israel related to the life of the great righteous and wise Kabbalah, accompanied by teachers of the Moscow Kabbalah Center.
General trip program:
Tsadikim: Mahpela Cave (Patriarchs Abraham, Yitzhak Yaakov; Pramateri Sara, Rivka, Leia), Pramater Rachel, Rav Ashlag
Rav Brandwein, Rav Berg, Rabbi Shimon Bar Yohai, Idra Rab, Ari, Rabbi Jonathan bin Uziel (Amuka), Rabbi Akiva
Rabbi Meir Baal aNes,
Shabbat: in the old city of Jerusalem near the Western Wall (communications and meals on Shabbat are included in the price).
Lag Baomer: a special connection on the night of Lag Baomer (Memorial Day of Rabbi Shimon Bar Yohai - author of the Zohar).
The center will provide transportation to the tsadikim and food.
Airplane tickets and accommodation are NOT included in the program price.
► Starting point and final destination every day - Jerusalem, in the area of ​​the King David Hotel (near Mamilla).
Beginning of the program: Thursday, May 7 at 13:00
* The route can be changed. Moscow Kabbalah Center reserves the right to make the necessary changes.